Letter of thanks from Grand Sovereign
Cliick on this for link to Letter of thanks for donation 2.12.21
Presentation to the Intendant-General
The Intendant-General was delighted to receive a £50 cheque for the Grand Sovereign's Care for Children's Fund from the Provincial Prior, R. E. Kt Malcolm Bilton, who was attending the Heneage Preceptory KT meeting in Grantham with the Provincial Team.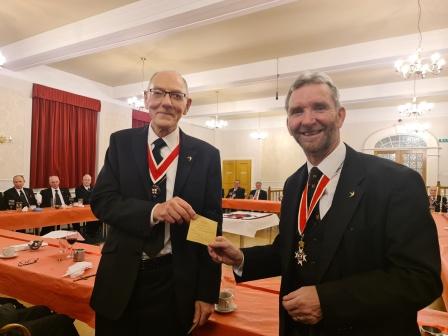 The Provincial Prior made the donation on behalf of Ivor Hallam and Mark Driffield who now oversee the 'Lincolnshire pre-loved regalia' enterprise, previously managed by the late Ill. Kt. Mel Barrowcliffe.
End of Suspension of meetings
Please see latest letter in "Messages from the Intendant-General" 
Bereavement 
 I am sad to report the passing of Ill. Kt. Maurice Barry Hazelwood, who died on Monday, 17 May aged 88 years.
 Maurice was a member of Tattershall Castle Conclave for 25 years - the last 5 as an Honorary Member. He attained the rank of Past Grand Vice-Chamberlain in 2016. 
He was a much loved and well-respected mason and was active in several Orders. Sadly, he resigned many of his memberships a few years ago because of ill health. 
He will be sorely missed by all who knew him.
 Grand Conclave Investiture Meeting
Please note that the new date for the above meeting is 12 October 2021 at 12.30pm - Covid restrictions permitting!
 Grand Rank Appointments 2021
Congratulations to the following worthy Knights on their well-deserved appointments and particular congratulations to Terry Pannell on his first appointment to Active Grand Prefect.
It is still possible that there will be an Investiture Meeting this year, however these appointments are effective from the 6 July 2021. 
Promotions:
Ill. Kt. Barry John Humphrey, BEM, P.G.Chamb., P.Dep.I.-G., to P.G.H.Alm.
Ill. Kt. Michael Frank Bull, P.G.Chamb., to P.G.H. Alm.
These two Illustrious Knights now Very Illustrious Knights
First Appointments:
P. Kt. Terence John Pannell, Div.S.G., to G.Pref.
P. Kt. Terence Frederick Aldridge, P.Div.S.G., to P.G.Vice-Chamb. 
Presentation to St Andrew's Children's Hospice (Andy's)
The R.Ill. Intendant-General, Steve Roberts and Ill.Kt. Ray Wade, Divisional Recorder, were very pleased to visit St Andrew's Children's Hospice (Andy's) in Grimsby today (20th October) to present a cheque for £2,500 on behalf of the Grand Sovereign's Care for Children's Fund.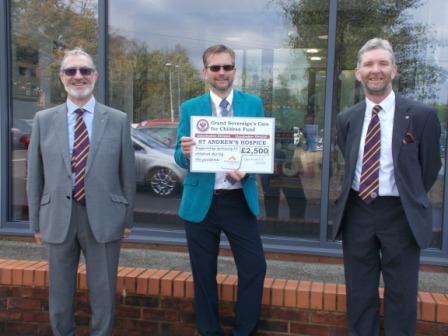 ---