Ancaster Conclave Presents Cheque

The Sovereign of Ancaster Conclave, P. Kt. Chris Jones and other Knights assembled in Sleaford recently to present a cheque for £500 to St George's Combined Cadet Force.
The unit is going to use the money to buy a Standard which they hope to parade for the first time at the town's Remembrance Parade in November.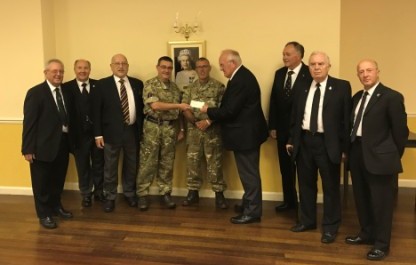 Grand Rank Appointments 2019
Promotions
Ill. Kt. D.B. Richardson, P.G.Chamb. to P.G.H.Alm.
Ill. Kt. R Wade, P.G.St.B.(L.) to P.G.Chamb.
First Appointments 
P. Kt. J. Winter, P.Div.S.G. to P.G.Her.
P. Kt. R.J. Stevens, P.Div.J.G. to P.G.Her. 
---
 
Divisional Sepulchre Guard for 2018 - 2019
Captain: P. Kt. Graham Arnold
Deputy Captain: W. Kt. Peter Mason

Knights of the Divisional Sepulchre Guard:
P. Kt. Alan Mawer, W. Kt. Frederick P Coles, W. Kt. Richard C.H. Powell, W. Kt. Gary J. Lusty,
W. Kt. Lesley S. Brewer, W. Kt. James McQuade, W. Kt. John J. Baigent