Address by Intendant-General 2017
Given at Divisional Meeting 18 November 2017
Worthy Knights All,
I think that my first comment must be 'where do I start' after what has been, for me personally, an extraordinary and wonderful first year as your Intendant-General. They say that time flies when you are enjoying yourself, well I must have certainly enjoyed it as the year has passed all too quickly.
What has not lessened however is the sense of pride and humility which I felt last year at my installation. That remains undiminished and will always be so.
Many sincere and heartfelt thanks to all those who have attended today: To all our distinguished guests, many of whom have travelled long distances and become great personal friends, their zeal should serve as an inspiration to us all - great thanks also for your hospitality when we have visited you.
To all the Knights of the Division, those who have served the Division this year along with those who have been appointed to office today, who I am sure will continue to serve this Division well in their assigned roles, however large or small, but special thanks also those who have just attended today to support the Division at this our annual meeting. I am sure that there are many other things that you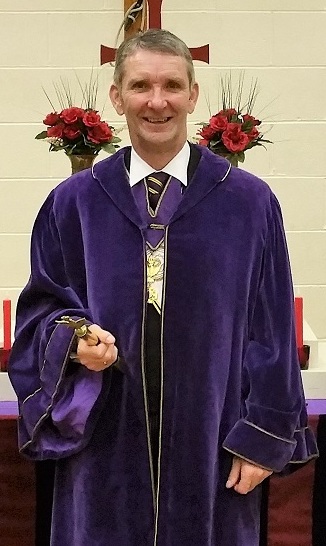 could have been doing today. 
Worthy Knights, I have to say there really is something very special about standing here and looking out at this gathering of like minded people whose commitment and enthusiasm is real and tangible.
However, may I especially give a particularly warm special welcome to R. Ill. Kt. John Clements, our past Intendant-General who has returned to our fold after his year of purdah, Sir, it's wonderful to see you back amongst us and I personally look forward to travelling again with you in future years.
As for the year itself, I believe we as a Division have had a very good year, although inevitably setbacks have occurred, not least the decision by the members of the St Wulfram's Conclave to hand in their warrant so soon after I took office. I don't intend to dwell on the issue but, after consultation with Grand Imperial Conclave, the warrant is actually being retained and held in abeyance for a number of years and it is truly hoped that the conclave may be reactivated, whether that be at Grantham again or at another location, and in what form, remains to be seen. However, it can be done, if the spirit to do so exists.
Our numbers have remained fairly static from last year and thankfully the loss of St. Wulfram's did not adversely affect our overall membership with most of the members transferring to other Conclaves.
New members are out there, as exemplified this year by the Ancaster Conclave who have Installed three knights in this period. Congratulations to their Most Puissant Sovereign, Mike Lock who brought them into the fold - his secret - he asked them, simple but effective. A lesson for us all.
New members are the future but I also cherish those Knights who we have sadly lost this year and were remembered in departed merit earlier. As a fellow Sepulchre Guard member and a same year Sovereign as myself, Ill. Kt. Lionel Jones, became such a good friend and I will personally miss him greatly. My mother used to use the phrase, 'he could talk the hind legs off a donkey' and I never really understood the phrase and it's meaning until I met Lionel - you certainly didn't dare ask him to respond on behalf of the visitors.
May I take the opportunity to congratulate those knights who received preferment at Grand Imperial Conclave earlier in the year. Promotions were given to our Divisional Viceroy, Ill. Kt. Dennis Berry, now Very Illustrious, to P.G.H. Almoner and Ill. Kt. Peter Paige, our Divisional Treasurer to P,G,St.B.(C.) with first appointments awarded to now Ill. Kts. Malcolm Forrest and Mike Leonard to P.G. Prefect;
Mel Barrowcliffe to P.G. Herald and especially to Derek Perkins, our hard-working Divisional Marshal who received the especial honour of active Grand Assistant Marshal in recognition of his service on the Grand Sepulchre Guard.
Can I also congratulate those who have been appointed to Divisional Rank today not forgetting sincere thanks to those of you who have stepped down from last year's Team?
The Divisional team meetings undertaken this year to visit Thornholme, Fryston and Viceroy Conclaves have all been well attended by the Active Officers and that is particularly gratifying as it shows the strong commitment and dedication that exists in the Order and the Division.
I have thoroughly enjoyed my personal visits to the various Conclaves also and the warm welcome that I, my Deputy and the Senior Officers of the Division have all received is very much appreciated. The reception given to the Generals has been particularly valued and has I know, contributed greatly to their year of Office.
Special thanks also to Puissant Knight Graham Arnold and his merry band of men who form our Sepulchre Guard and contribute so much at our team meetings and Appendant Orders' ceremonies. Can I urge new Knights to consider joining the Guard, I am sure that the camaraderie that exists amongst the team will enhance your own personal enjoyment of the Order.
Last but not least, heartfelt thanks to all those who have contributed in arranging and executing their specific duties today in whatever way was required. It started last night with the setting up of the furniture by Ill. Kt. Billin and will carry on long after we have departed this afternoon.
Worthy Knights, apologies to those who I haven't specifically mentioned, I can assure you that it doesn't mean that your contribution is not valued in anyway, far from it so forgive me for not reeling off a long list, I am sure that you would much prefer to wine and dine than to listen to me but hopefully you know who you are. Any complaints, please see my Deputy.
On behalf of my wife, Susan, may I also mention the Ladies Festival, organised by Ill. Kt. Wade, our Recorder, which took place at the Dower House, Woodhall Spa and was so well supported. It's a very enjoyable evening at a delightful venue, with good food, music and lasting friendship - what more could we ask for and if you've not previously attended, please try and do so next year.
As Freemasons, charity is obviously one of our basic tenets and I am pleased to say we, as a Division, have continued to support the Grand Sovereign's fund for children.
Tattershall Castle Conclave received the £1,000 Divisional charity cheque which they in turn distributed to and was warmly received by three local charities, one of which was the Community Larder, a sign of the times and a sobering reminder to us as Freemasons of why we do what we do.
I'm especially pleased to say a number of new and positive developments have been introduced during the year which hopefully will enhance the Division.
The website is up and running, ably managed by our Divisional Recorder.
New explanatory leaflets have been drawn up, both to explain the Order to possible Candidates and also to expand on the duties of the Sepulchre Guard.
Another initiative has been a year book which is being produced by our Assistant Divisional Recorder, who has put a great deal of work and effort into this and for that Terry, we thank you sincerely. The book which will be available shortly contains a great deal of information regarding the Order itself and I commend it to you.
Worthy Knights, please make use of all these initiatives, they hopefully will accentuate your sense of belonging to the Order and our Division.
To conclude, we are, to be candid, a relatively small Masonic order numbers wise and what has an effect on the membership of Masonry universally will ultimately have a larger knock on effect for us in the Red Cross. Worthy Knights, as Red Cross Masons who enjoy this beautiful degree, may I therefore implore and urge you to wholeheartedly and fully support the Craft and Royal Arch Masonry in every way you are able. They are our lifeblood and why we are here and are more than deserving of our time and effort.
Take good care of new initiates, one day they may be the new Red Cross Masons.
Stephen Roberts
R. Ill. Intendant-General for Lincolnshire
---